"To err is Human", which simply means human beings are prone to errors and mistakes in their work, no matter how precise and accurate they plan to be. And when it comes to writing, even the best in the business depends on proofreaders and editors to critique their work.
Since the most experienced writers with a strong grasp of grammar and punctuations cannot prevent some of these inadvertent errors from creeping in. Well, it's a great thing if you as a writer can afford to hire experts for proofreading but not everyone can do that.
This is where tools such as Grammarly come to the rescue, which does all the nitty and gritty grammar rectification for your work. In the end, you can focus on the major task, Writing.
This article will take you on a journey when you will get familiar with Grammarly. Furthermore, you can decide whether to use it or not.
What is this Grammarly everyone is so hyped about?
Grammarly is an amazing spelling and grammar checker tool that can integrate with any place or platform you write and does the job in real-time for you as you go on writing.
For instance, this platform can be your email, a text editor, a WordPress blog, word processors like Google doc or MS word. Grammarly not only tackles bad grammar and punctuation but also deals with other aspects of writing like flow, delivery, tone, conciseness, and even plagiarism.
It takes such a huge load off the back of writers who don't wish to piggyback human proofreaders and editors. Indeed, it saves time and relatively money and boosts productivity on the way.

Features of Grammarly: A comprehensive pathway
Grammarly offers two choices: a free version and a premium version.
The free version has limited capability but can get a great amount of job done. Importantly, it can perform grammar checks, spelling checks, punctuation errors, conciseness, and tone-detection. All these features alone can turn the face of your writing. Thus the Free version offers Correctness and Clarity to some extent.
The premium version focuses on correctness, clarity, engagement, delivery, and plagiarism check. Here we will discuss in detail the features offered in the Premium version which packs features you may not think about lacking until you use them.
CORRECTNESS
Spelling checker: Once Grammarly has been integrated with your browser (Chrome/ Firefox), it checks and suggests correct spellings every time you write something. For example, when you're writing an email or a blog, Grammarly quickly highlights the errors and you can correct them with a click. The spell-check offered by Grammarly is not hard rule-bound but a contextual one. It tries to understand and correct errors like your vs you're, where vs were, there vs their kind of errors.
Grammar and Punctuation checker: Grammarly can quickly detect the smallest of grammar and punctuation errors like tenses, fragmented sentences, alliteration errors, extra punctuations etcetera. It can detect the most basic to most advanced errors and provide suggestions about correcting them. Along with the suggestions, it also tells you what is the reason behind the suggested correction thus working as a guide along the path.
Fluency: At times we often use fancy words in our sentences to increase the profoundness of it but it backfires. It rather renders the sentence unnatural and difficult to understand. Well, Grammarly makes sure your choice of words is natural and the flow of the piece is as smooth as possible.
CLARITY
Conciseness: Grammarly makes sure you don't get lost while framing a sentence because we often take a long path to convey the simplest things. So, it actively suggests alternative ways to deliver a sentence.
 Clarity-focused rephrasing and formatting: Several writers have great content but are lousy and ambiguous with their writing. For them, Grammarly offers restructured sentences and formatted constants wherever deemed necessary.
ENGAGEMENT
Writing Style of the author: Grammarly shows a readability score on the sidebar which helps the writer to self-edit their content for higher legibility. Moreover, it suggests sentence length and word placement that could improve the score and crux of the sentence at the same time. This helps a budding writer to get comfortable with his/her genre and niche.
You can set goals about how your writing should be and Grammarly tries its best to help you with that. For instance, you can choose your style to be formal/informal and intent to inform or describe a topic and Grammarly caters to your needs efficiently.
Vocabulary enhancement: This is another exciting feature provided by Grammarly. I believe this was always needed as there are only so many words that we can memorize along with their meaning. This undoubtedly adds crispness and vibrance to the article.
DELIVERY
Tone Detector: There are times when our mood influences our writing. For instance, while sending out an email one might use a harsh or direct tone because of the frustration and stress driving the writing. Surely, this might bring devastating outcomes. Grammarly has this feature that senses the tone of your writing and suggests what you need to do to dial down a particular tone. Isn't this a lifesaver?
Politeness, Formality level, and Inclusive language: Grammarly checks the harsh language used and suggests more polite options. And at times when you're in a hurry and use acronyms in a formal letter, Grammarly even rectifies that thus ensuring you don't face backlash. Finally, it makes sure your language is respectful and doesn't ooze any kind of unwanted sentiments.
Confident Writing: Grammarly eliminates words that stop you from showing off your go-getter attitude. For that, it suggests words and phrases as a replacement that will give a greater sense of confidence and formidability to your audience.
PLAGIARISM CHECKER
This is one feature that I am personally excited to use. Before Grammarly offered plagiarism checks, it was a hassle out there with a limited amount of software and soaring prices of those. Now that it is here, it saves a huge amount of time and money that it takes to ensure the originality of your content. Grammarly checks against over 16 billion online resources to provide you with plagiarism scores for your work. This is an especially great addition for researchers and students who are writing their first paper and cite heavily from the references and previous works.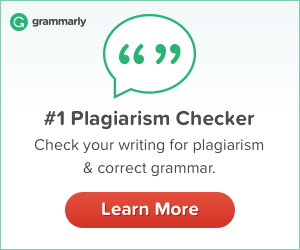 Target users: Who is Grammarly for?
In a broad sense, Grammarly for everyone who writes. But if we talk about productivity and monetization of written works, we need to converge this target.
Content writers and developers
Independent authors and bloggers
Business writers and professionals
Students
Academicians and researchers
Different options you can choose from to use Grammarly
Web Application: This is the most preferred option to use Grammarly because it's hassle-free and intuitive. To be sure, all you need to do is copy your content or article from your editor and paste it on the Grammarly website and check for errors. Furthermore, once the errors are corrected and you are satisfied with the result you can copy it again and paste it or publish it on the targeted platform. Easy peasy lemon squeezy!!
It is redundant to mention that you must sign up and create a free account first before you proceed with your task.
Google Chrome Extension: You can add Grammarly as a browser extension to your chrome and let it automatically check for errors every time you write anywhere. You can find the link to the extension on Grammarly's homepage or search for it in the Chrome app store. This is particularly useful while writing emails or contents and getting them corrected simultaneously.
Desktop Application: This is rather useful if you prefer working offline or at times when there is a strain on the network connectivity. All you need is to download the desktop application and install it. Additionally, it works with both Windows and macOS. The rest of the steps are the same as you would proceed with the web application.
Microsoft Office Plugin: For Windows users, things couldn't get better with Grammarly. To elaborate, you can add a Grammarly word as a plugin in the MS word add-in page by following the instructions mentioned there. Again, it should be kept in mind that MS word should have access to the internet to work with this feature.
Mobile platform: Grammarly offers smooth and intuitive keyboards for both Android and IOS users. They can download it from their respective app store.
Should you start using Grammarly right away?
I would suggest you try the free version of Grammarly first and get a taste of the ease and comfort it offers. With the free version, you can do most of the basic corrections such as grammar, spelling, and punctuation. These three features can improve the readability and crux of your content to a great level.
Once you get all cozy with it and genuinely feel the premium features will be an asset to you, go for it. For bloggers and authors who write for a living, you won't regret owning the paid version at all. Rather, you will see right away how it gets the job done more elegantly and faster.
 Grammarly: Pricing
| | | | |
| --- | --- | --- | --- |
| Features | Free Version | Premium Version | Business edition |
| Grammar, Spelling and Punctuation | ✅ | ✅ | ✅ |
| Consistency in spelling and punctuation |   | ✅ | ✅ |
| fluency |   | ✅ | ✅ |
| conciseness | ✅ | ✅ | ✅ |
| Clarity focused sentence rewriting |   | ✅ | ✅ |
| Formatting |   | ✅ | ✅ |
| EngagementCompelling vocabularyLively sentence variety  |   |   ✅ ✅ |  ✅  ✅  |
| DeliveryTone detectionConfident writingPolitenessFormality levelInclusive language |  ✅ |  ✅ ✅ ✅ ✅ ✅  |  ✅ ✅ ✅ ✅ ✅ |
| Number of users per License  | 1 user | 1 user | 3+ users |
| Price | Free | $12.00/ month | $12.50/member/month |
If you are a blogger and write on a greater range of topics, you would want to spend most of your time doing research on the content rather than skimming through your work for grammar and language corrections. Moreover, it's tedious and impossible to get everything correct with human vigilance. So, I would personally recommend the Individual premium license for you. It costs too little for what it offers. With this, you can multiply your productivity and volume of work to many folds.
Word of Caution: Not everything Grammarly suggests is acceptable
Grammarly follows an algorithm to do what it does. To add, sometimes there might be certain things you want to present in your way which may not be understood by the underlying algorithm. So, it is important to see carefully all the corrections it is suggesting and accept them consciously. You have to make sure it is not altering your organic ways or the meaning you want to convey.
Grammarly is an AI tech and it has been trained by billions of datasets to achieve the level of efficiency it has today. But again, there are always outliers and your writing or content might be one of them. So, just keep your eyes and brain open when you are correcting your piece using Grammarly.